<!!! Insert text below!!!!!!>
Third Annual "Hall of Fame Day" Banquet

November 6, 2005
Embassy Suites, Charleston WV

Over 150 wrestling fans were in attendance at the Third Annual Banquet and Induction Ceremony for the West Virginia Chapter of the National Wrestling Hall of fame held at the Embassy Suites Hotel in Charleston.

State Chapter Vice President Garry Bender of Roane County welcomed guests, families, and of course the honorees -- Ed Dugas of Moundsville, Joe Handlan of Parkersburg, Steven Kee of Clendenin, and Roy Michael of Mannington. Biographical sketches of this year's honorees are available at this link.

Following an invocation by State Chapter Treasurer Wayne Bennett of Raleigh County, a buffet style meal was enjoyed. Bill Archer, State Chapter President, served as Master of Ceremonies for the day.

The guests were treated to observations and reminiscences by each of the honorees.

Coach Ed Dugas recounted his rewarding experience of working with another Hall of Fame member, Bill Hinegardner at John Marshall High, including the occasion of a wrestling mat flying off the back of a truck on the way to the OVAC, and the fortunate enlistment of several members of the JM student body to roll up the mat (on the highway median) and reload the truck.

Coach Joe Handlan of Parkersburg emphasized the need to develop each individual on the team to his fullest potential, and in doing so, allowing the team championships to take care of themselves.

Coach Steven Kee of Herbert Hoover emphasized the need for family and community support in building a wrestling program.

Coach Roy Michael of Mannington and North Marion pointed out that wrestling develops mental and physical toughness in athletes, which is of benefit to the entire athletic program at the school leading to success in multiple arenas.

The afternoon closed with a benediction by State Chapter Secretary George Keeney, President of the Kanawha Southern Wrestling Board.


---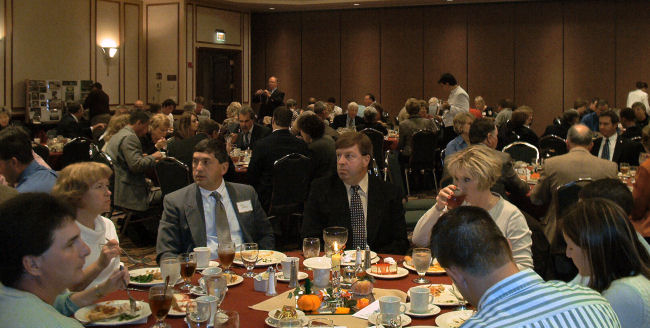 Over 150 were in attendance for the event.


---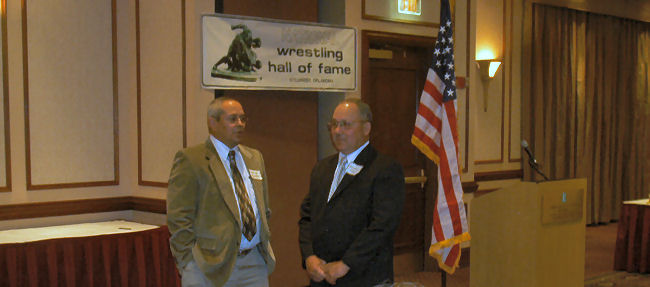 State Chapter Vice President Garry Bender of Roane County (left) goes over the itinerary with inductee Steven Kee...


---


...while State Chapter President Bill Archer of Huntington talks businness with inductee Roy Michael.


---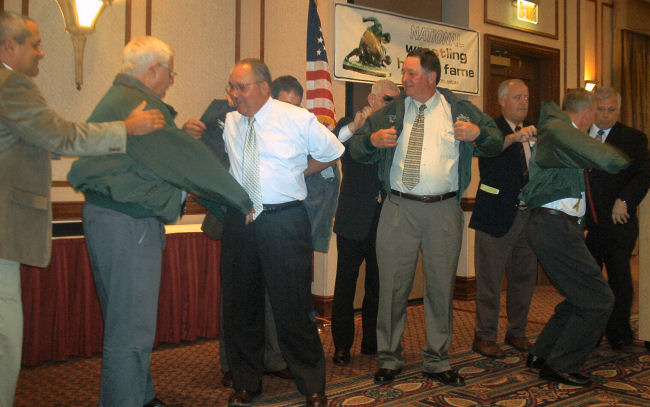 The donning of the jackets.


---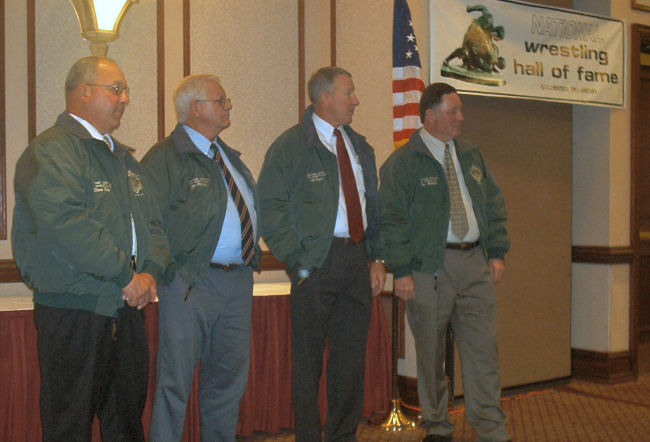 Each honoree received a plaque and the National Wrestling Hall of Fame "green jacket."
Left to right: Steven Kee, Joe Handlan, Ed Dugas, Roy Michael


<!!!!! Insert text above!!!!!!>
---
West Virginia State Chapter, National Wrestling Hall of Fame
Return to the WV-Mat front page