<!!! Insert text below!!!!!!>
Fourth Annual "Hall of Fame Day" Banquet

November 4, 2006
Embassy Suites, Charleston WV

Seven new members were inducted into the National Wrestling Hall of Fame, West Virginia Chapter this Sunday in Charleston.

It was a day when celebration was tempered by a note of sadness and loss, as two of the inductees were honored posthumously.

Chuck Smith, former Independence High wrestler, regional champion, state finalist, youth and Middle School coach, official, and most recently Head Coach at Woodrow Wilson High School in Beckley, tragically lost his life in the line of duty as a member of the Beckley Police Department's Drug Task Force in August 2006. Chuck's wife Britney was on hand to accept the "Distinguished American" award on his behalf.

All in attendance were saddened to learn that honoree Bob DeLorenzo of Fairmont passed away quietly and unexpectedly Friday night prior to the Sunday induction ceremony. Son Rocky DeLorenzo noted that his father passed peacefully "the way he would have wanted to..." after having enjoyed the radio broadcast of the East - West Fairmont football game, and chatting with family and friends at home.

Coach Emil Nardone of Bishop Donahue was given the "Medal of Courage" award for his efforts in building the program at Donahue while battling a host of medical impediments. Nardone coached no fewer than five state champs from Bishop Donahue during his tenure there.

Vernon E. "Tiny" Marlow was honored for his work primarily in Youth wrestling in the Wood County area. The strength of the Wood County Youth program is legendary in West Virginia and elsewhere, and much of its success is attributed to the efforts of Marlow. Son Mike Marlow accepted the award, as ill health prohibited the attendance of his father. It is noted that Marlow has been honored by both Parkersburg High as well as Parkersburg South for his lifetime contribution to the athletic programs in general, and the wrestling programs in particular in Wood County.

Ron Mauck of Wheeling was honored with the "Lifetime Service to Wrestling" award, noting his service as the OVAC Tournament director since 1979, and his coaching tenure at Follansbee and Brooke dating from 1965.

Coach William W. "Toby" Harris of Greenbrier West was recognized for his work in introducing the sport in the Greenbrier West area. Harris, for a time, worked with the Youth, Junior High, as well as the High School programs, and is credited with building the program at his school.

Coach Steve White of Nitro was also honored with the "Lifetime Service to Wrestling" award. State Chapter President Bill Archer of Huntington, in his introduction, made mention of the little known fact that Coach White was the recipient of three Purple Hearts and three Bronze Stars while in service to America in Viet Nam as an intelligence officer. Coach White deferred his gratitude to his wife and family as instrumental in his success at Nitro, earning six top-10 finishes and coaching eleven state champs in his 22 years at Nitro.


---
---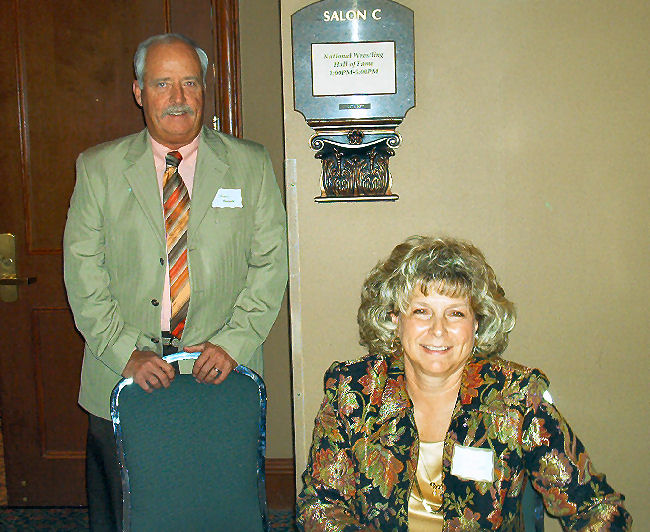 State Chapter treasurer Wayne Bennett and his better half, Dianne, were at the door attending to guest arrivals. Bennett coaches wrestling at Park Middle School in Raleigh County, and writes for the Beckley Register-Herald, having received the West Virginia Wrestling Coaches Association State Sportswriter of the Year award in 2001, along with a National Sportswriter of the Year award from Wrestling USA Magazine in 2001.


---
---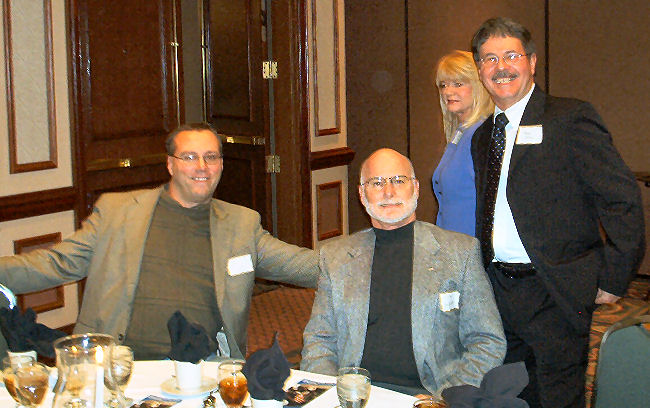 Out of uniform for the day were well-known wrestling officials (L to R) Chris Diserio, Mike Stalnaker, and George Keeney, along with friend Jeannie Harvey. Keeney is Chairman of the Board of Directors for the West Virginia Chapter, National Wrestling Hall of Fame.


---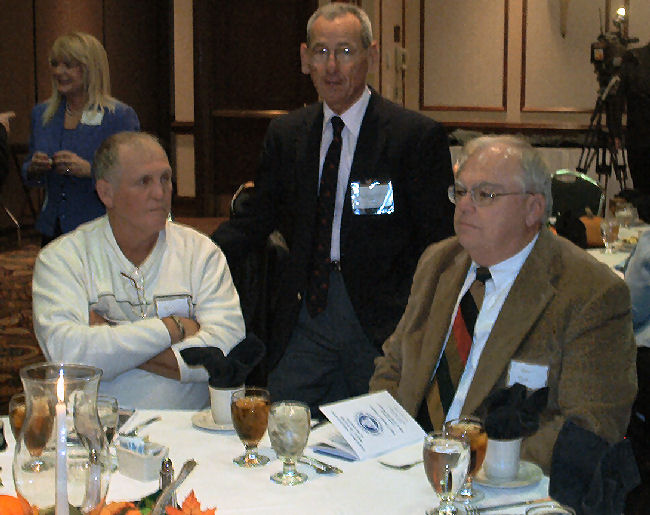 Charter Inductee Coach Vince Monseau (center, Class of 2003), chats with Jim Potts (left), long time Cameron coach, recently retired, and Bob Koch, Cameron AD.


---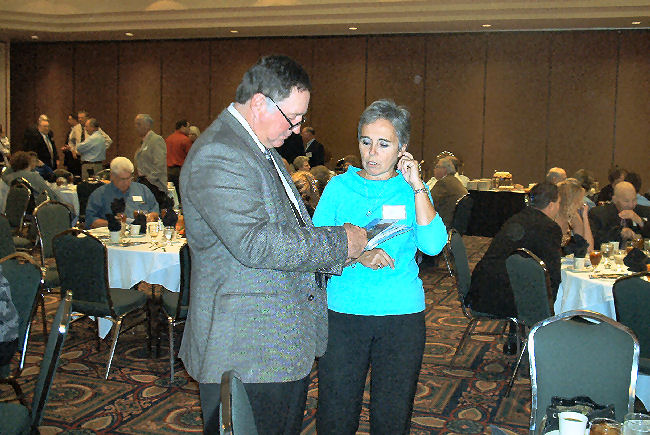 2005 Hall of Fame inductee Roy Michael of North Marion examines important documents with State Chapter Secretary Diane Archer of Huntington. Could this documentation be 1) the latest training techniques, or 2) grandchildren ?????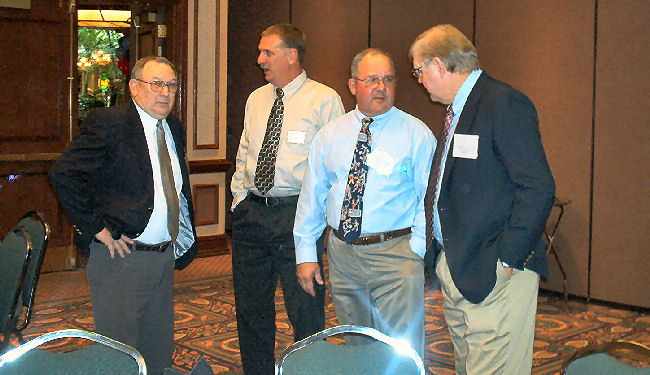 Three current Hall of Fame members (and a future hall-of-famer?). Left to right: Bob Stover, Clay County (Class of 2004), Mike Stump, current head coach at Calhoun County, Steven Kee, Herbert Hoover (Class of 2005), and Roger Jefferson, Stonewall Jackson (Class of 2004).

---


<!!!!! Insert text above!!!!!!>
---
West Virginia State Chapter, National Wrestling Hall of Fame
Return to the WV-Mat front page