<!!! Insert text below!!!!!!>
Fifth Annual "Hall of Fame Day" Banquet

October 28, 2007
Embassy Suites, Charleston WV

Nine new members were inducted into the National Wrestling Hall of Fame, West Virginia Chapter this Sunday in Charleston.

By all accounts, this was the best attended banquet in the five year history of the event, with over 200 in attendance.

Of particular note, the legendary Bobby Douglas was in attendance, in honor of his High School Coach George Kovalick. Kovalick coached Douglas to two Ohio State High School wrestling championships at Bridgeport (Ohio) High School, and the rest, as they say, is history. Douglas' wrestling resume is a website in itself, but in brief, he was a 1962 NAIA champion for West Liberty State and runner-up the following year. Transferring to Oklahoma State, he closed his collegiate career at 72-2. Retiring from competition in 1970, he was named the National Outstanding Wrestler. He was on the U.S.A. Olympic team in the 1964 Tokyo Olympics, was captain of the 1968 Mexico City Olympic team, and head coach of the 1997 Barcelona team. He was Head Coach at Arizona State University from 1975 to 1992, and at Iowa State from 1992 to 2006. He was inducted into the National Wrestling Hall of Fame with the 1987 class. Douglas matter-of-factly stated that he would not be where he is today without the influence of Coach Kovalick.

Also in attendance was The Honorable Joe Manchin, Governor of the State of West Virginia. This day Governor Manchin's focus was not the political arena, but rather the wrestling arena as he payed tribute to his uncle, 2007 Hall of Fame inductee A. James Manchin. Governor Manchin noted that the late A. James was known at "Jimmy Manchin" by his friends in Farmington, "Tony Manchin" by his friends from his days as a student and wrestler at WVU, and as "A. James Manchin" by those who knew him from his life in politics.

Former North Marion wrestler Greg White was given the "Medal of Courage" award, having overcome seemingly insurmountable medical problems to finish a fine career at North Marion and become a NCAA Division I wrestler at West Virginia University.

The "Distinguished American" award was presented to Andrew Hosey, former Huntington High wrestler, currently serving as the Deputy Division Chief at the Transportation Security Administration Operations Center (TSOC), a function of the Department of Homeland Security. Hosey noted that the teamwork and dedication required of the sport of wrestling are necessary components of his current position in the safeguarding of domestic security, concluding his remarks with a quote from English philosopher Edmund Burke, "The only thing necessary for the triumph of evil is for good men to do nothing."

If there was an award for "The Mother of West Virginia Wrestling," no doubt that Hall of Fame inductee Diana Archer would top the list of prospective honorees. Mrs Archer recounted her years of being a coaches wife, a wrestler's mother, dietician, cook, host to a house full of coaches and wrestlers on many occasions, an organizer and manager of countless tournaments (no less than the WSAZ, West Virginia's largest wrestling tournament, and the West Virginia State High School Wrestling Tournament to name only a couple) while at the same time completing a career as a counselor in the public schools. And did she say that she once sat at the scorer's table at a wrestling tournament for five hours while in labor, delivering the next day? Nah, couldn't have.

Long time Huntington High Coach Bill Archer was also honored this day. Archer noted that wrestling is an unusual sport, in that the competitors, coaches, and officials are all within speaking distance of each other at events, no doubt contributing to the closeness and camaraderie that those in the sport experience. Never at a loss for words, Archer noted that some might think it odd for a Hall of Fame inductee to be the Master of Ceremonies at his own induction. However, those who know THE COACH would not expect the event to proceed any other way.

Former Independence High School Head Coach Ed Gilson paid tribute to his wife Mary Ann, noting that of the 430 or so wins in his career, Mary Ann was the "most important win." Many coaches have shared the experience of Coach Gilson who noted that while he was away on countless trips "helping other people's kids grow up," his wife was at home "raising our kids."

Kanawha Valley Coach Jack Perry recalled his years as an educator and Coach in the Charleston area, noting that those who have never had an opportunity of teach and coach young people have missed a fulfilling activity indeed. Perry counseled young coaches in the audience about the importance of pride. "It's important to be proud of your program. If you're not proud of your program, who's gonna be?"

Former Cameron Head Coach Jim Potts noted that he has spent a good part of his career looking up to many of those in attendance, past Hall of Fame inductees, and felt humbled to now be included in that number. Commenting on his success at Cameron, Potts noted that Cameron's close proximity to Pennsylvania and Ohio, hotbeds of wrestling in the United States, only makes it more reasonable for his school to enjoy similar success. Potts recounted the conclusion of a fellow West Virginia coach who once noted that wrestling Cameron was like wrestling a Pennsylvania team, because "you have to go through Pennsylvania to get there."
---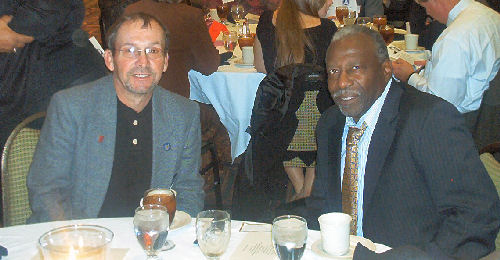 Noted West Virginia wrestling official, author, and rules interpreter Dr. Bill Welker (left) chats with National Hall of Fame member Bobby Douglas (right).


---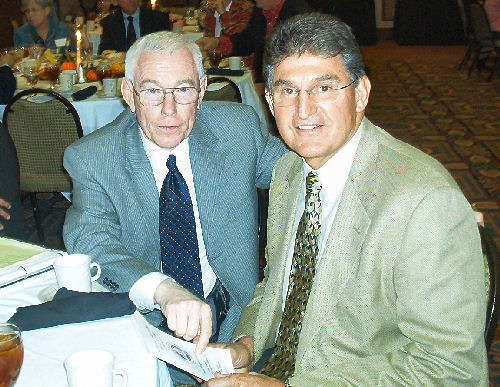 Coach Archer goes over the program with Governor Manchin.
---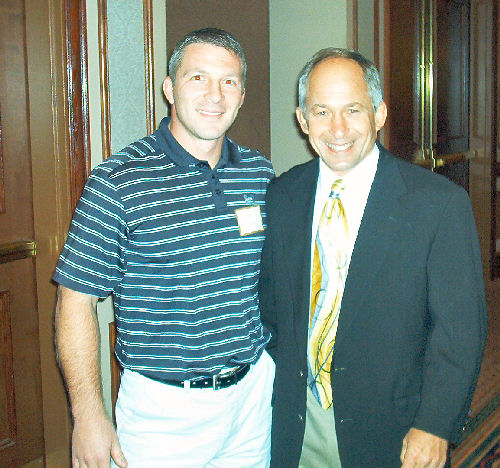 West Virginia University Head Wrestling Coach Craig Turnbull (right) chats with Mike Mason, 3X State Champ from Williamstown ('91-'93) and WVU All-American.


---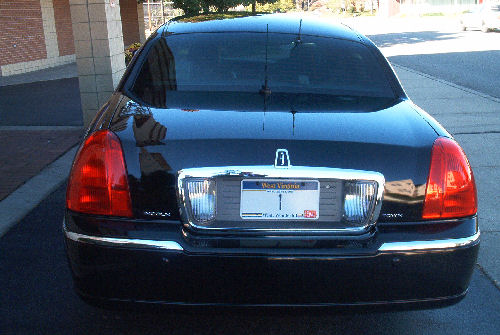 Yes, it's true. The Governor really does get license plate number "1."


---
<!!!!! Insert text above!!!!!!>
---
West Virginia State Chapter, National Wrestling Hall of Fame
Return to the WV-Mat front page