112 Dirk Bauer, Wheeling Park d Ron Schram Canon-McMillan 6-4
Schram opened the scoring in the first period, scoring 2 for a takedown on a leg shot. Bauer was able to spin underneath and come out the back door, and tied the match 2-2 with a reversal. Later in the first, Bauer got in on a good leg shot but couldn't finish. Schram was able to cross-face and go behind to score the takedown. The first round ended with Schram ahead 4-2.

In the second round, Bauer came out a bit more aggressively and was able to finish a good leg shot coming out the back door and scoring a takedown, tying the match 4-4. Bauer then quickly scored 2 back points with a 2-on-1 tilt to go ahead 6-4. Bauer threw in legs and rode the top the rest of the match, and the match ended 6-4 Bauer.

119 Jake Swink, Connellsville d Ryan Asbury, Oak Glen 7-4
Swink scored first on a takedown with a single leg and a dump. Swink then covered on top making it difficult for Asbury to get anything shook loose. Asbury did get a one point escape on a switch at the mat edge which was close to a reversal. On the re-start on the feet, Swink scored another take-down with a slide-by and the first period ended 4-1 Swink.

To open the second period, Swink scored another takedown with a clean leg shot to go ahead 6-1. Asbury stood up for a escape, then scored a take-down of his own on a clean shot to pull to within 2, 6-4 with 1:14 left. Asbury on top, needing back points to tie or win, Asbury stretched the envelope and Swink got out for an escape. The match ended 7-4 Swink.

125 Nathan Pennesi, Greater Latrobe d Nick Taylor, Wheeling Park 2-0
Low scoring match. Greater Latrobe's Pennesi was in on three good shots for a takedown in the first period, an unusual low-level leg snatch/sit move, which Taylor deftly countered with an equally unusual somersault move on two or three occasions. The first period ended with no score.

In the second period, Pennesi scored a takedown with a head inside single with 1:43 left. Pennesi rode the top for the remainder of the period. With nothing happening in the match, a stalemate was called at 1:04, but Pennesi continued to ride the top with a tight waist. Final score Pennesi 2-0.

130 Colin Sheridan, Mt Pleasant, d Drew Jenkins, East Fairmont 2-1
Sheridan scored first with a high crotch attack and takedown. Wrestlers went off the mat, and Jenkins did a sit-out-turn-in on the restart to escape, making the score 2-1 with 1:41 left in the first. This was all the scoring in the match.

The second period began, as did all the matches at this event, with both wrestlers on their feet. Jenkins could not find the combination to get past Sheridan's defense, as the entire second round was wrestled from neutral position. Jenkins did get in on a good shot with 10 seconds left, but couldn't finish. The match ended 2-1 Sheridan. One can only speculate how the match might have ended if conventional rules were utilized - with the second and third rounds starting with someone (possibly) on bottom or top.

135 John King, Philip Barbour, p Mitch Spencer, Avella, 4:41
Perhaps more action in this match than most. Spencer came out aggressively in the first, getting in on King with a good head-inside single. King fought this off with a wizzer for what seemed like an eternity, got loose, and the match still had no score at 1:34 left in the first. Spencer then came in with an aggressive cowboy - perhaps unknowingly playing to King's strength. King shucked him off, landed on top, and showed great wrestling savvy to get his legs positioned just-so to earn the takedown. Later in the first, Spencer tried to stand up on a restart, but King pulled him back and got his shoulders down for a two count and 2 backs. The first period ended with King ahead 4-0.

In the second, Spencer tried a nifty little spin move underneath. King, showing great ability to wrestle in a scramble, stuck Spencer on his back more securely than two arms and two legs would seem to allow, scoring the pin with 2:11 left in the match.

140 Jack Bachman Hempfield Area d Victor Panico University 6-0
Once again, WPIAL wrestler, Bachman, scored first with a single leg and back-door finish. Bachman then tied Panico up on top, working an arm-bar, and was able to score 2 back points with the bar. The first period ended 4-0 Bachman.

The second period started with a quick straight ahead leg shot and takedown by Bachaman to go ahead 6-0. No more scoring, as Bachman rode the top the rest of the match, winning 6-0.

145 Andy Church, Parkersburg South, via inj def Devan Jones, Penn Trafford
Church came out aggressively, and appeared to be in on a good single leg shot with a scramble. Jones was injured at this point, but the match resumed after considerable injury time. Church got in again with a single leg and trip, then turned Jones loose to go ahead 2-1. Church scored again on a clean leg shot, increasing his lead to 4-1, at which point Jones was injured again and the match was forfeited due to injury.

152 Eric Morris, East Fairmont, d Kyle Appleby, Avella, 2-1
Morris came out strong in this match and scored on a single leg with a lift. Morris then turned Appleby loose on a re-start, and the score was 2-1.

There was no further scoring in the second period. This time it was the West Virginia wrestler with a lead in the second, with wrestlers neutral. Morris took one stall warning with a minute left, but fought off Appleby to get to the end of the match, a 2-1 victor.

160 James Fleming, West Mifflin, d Mason Bailey, East Fairmont 5-2
An odd match. Fleming scored first with a takedown. There followed a series of three sequences where Fleming, from the top, locked in a head-lock (head and one arm) from the top, while riding legs or something close to legs. Bailey desperately tried to shake Fleming off the top and pull his head out, but the head-lock by Fleming was tight indeed - in fact broken off three times by the referee and restarted for "potentially dangerous." Finally at the end of the second, Baily was able to score 2 with a switch, but Fleming got neutral for the escape. The first period ended with Fleming leading 3-2.

The second period was wrestled mostly on the feet, with Bailey trying to get through Fleming's defense. Both wrestlers tied up most of the period. Near the end of the period, Bailey was forced to stretch the envelope and was unable to finish a leg shot. Fleming spun around and got the takedown at the end. Final score Fleming 5-2.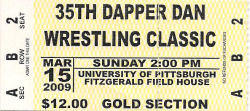 ---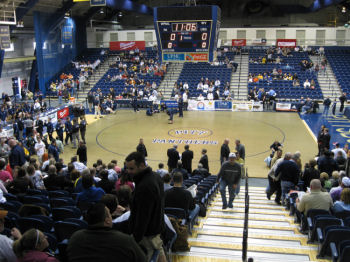 ---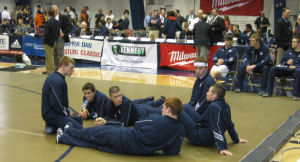 Members of the West Virginia All-Stars relax on the mat prior to the start of action vs the WPIAL All-Stars. Dapper Dan Classic, Pittsburgh PA, March 15, 2009.


---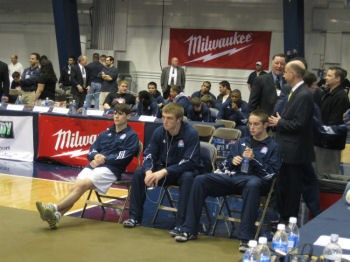 Members of the West Virginia All-Stars relax on the mat prior to the start of action vs the WPIAL All-Stars. Dapper Dan Classic, Pittsburgh PA, March 15, 2009.


---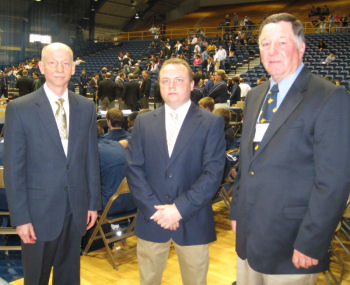 West Virginia All-Stars coaches L to R: Larry Shaw, Oak Glen; Chuck Satterfield, Fairmont West Virginia; Roy Michael, North Marion (retired), member of WV Chapter, National Wrestling Hall of Fame.


---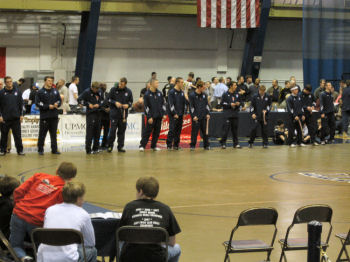 West Virginia All-Stars line up for pre-match ceremony. Dapper Dan Classic, WV All-Stars vs WPIAL All-Stars, March 15, 2009, Pittsburgh PA.