1930s WHS Grappler, Daril Stalnaker, Inspires with Untarnished Record
By Joy Stalnaker

Reprinted by permission from The Weston Democrat (December 24, 2008)


Seventy years ago this wrestling season, the never-defeated wrestler and team Captain Daril W. Stalnaker together with Weston High School's other grapplers brought the state's wrestling championship home to Lewis County. It was the second year in three that this exceptional team, which was undefeated for the entire season, brought the title home.

During the 1936-37 season, they won the title, but lost it to Harrisville in the 1937-38 season.

In the 1938-39 season, they won the title event by a score of 18-9. According to scores in the 1939 school year book, The Collicola, The WHS team scored 196˝ points during the season while their opponents totaled only 78˝.

Members of the 1939 WHS Championship Wrestling team in addition to Stalnaker who wrestled at 155# were Joe Lancaster,115#; George Bragg, 125#; Howard Hall, 135#; Junior Garrett, 135#; Donald Starcher, 105#; Carl Butler, 95#; Bob Dutton, heavyweight; Lawrence Craft, 165#; Robert Woofter, 135#; and John Hall, 135#.

After the latter season was over, Stalnaker, a senior, was named All-State Interscholastic Wrestler. Earlier in the school year, he was awarded Honorable Mention All-State Guard in football.

Stalnaker is quick to point out that the team's title championship was the result, not only of the athleticism of him and his teammates but also the abilities of their coach Frank Lough and the dedication of the entire team.

In 1937 Stalnaker was named State Health Champion in 4-H and went on to the National Club Congress in Chicago where he was named the first runner-up in the Healthiest Boy in the Nation competition.

Today, Stalnaker attributes the lifestyle he lived and learned as a young man together with his outstanding abilities as an athlete with his longevity. On January 6, 2009, this native Lewis Countian will celebrate his 90th birthday.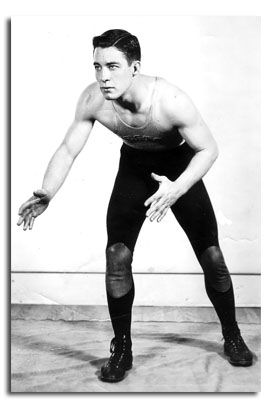 In 1939, the last time this picture of Daril W. Stalnaker appeared in local and state newspapers, Stalnaker was called "an Adonis." This picture and the accompanying story of his exceptional abilities were used to draw sports fans to an inter-scholastic wrestling match at East Side Fairmont High School. The story recognized Stalnaker as an undefeated wrestler for Weston High School who won most of his matches by scoring more points than any other member of his team.

Photo from The Weston Democrat