---
WEST VIRGINIA MAT THOUGHTS
by Dr. Bill Welker
National Wrestling Hall of Famer
<!!!!!!!!!!!insert text> December 14, 2008

Hall of Fame

On October 26th, I was honored to be inducted into the National Wrestling Hall of Fame for my Lifetime Service to the mat sport in West Virginia. It was quite a memorable occasion, knowing that my name would be located in the same Hall as the "great ones" of wrestling at Stillwater, Oklahoma.

My speech was quite brief, witnessed by my dear friends Rich Carter, OVAC wrestling-icon Ron Mauck, PA wrestling-guru Tom Elling, and Maryland officiating-great Rick Hare. I began by thanking the people most important to me - my family. They were the ones, especially my wife Peggy, who had to put up with my wrestling obsession for nearly 40 years.

At that point, I was at a loss for words, realizing the others I wanted to thank weren't there, and many present would have no idea who I was talking about. All my mentors in life have passed on: George Kovalick, Bill Van Horne, Rex Peery (Pitt), Mal Paul and Lyman "Beans" Weaver (my HS coaches), and most importantly, my father, William H. Welker. So, I completed my speech by making jest of my officiating skills over the years, and thanking everyone in attendance.

Many memories filled this day of celebration. First and foremost was seeing my son SSgt. Daniel E. Welker and his family, who flew in from Seattle, Washington where he is stationed. Peggy and I haven't seen them in over four years. Also, it was so great that my daughter Tiffany, son-in-law Chris, my son Ricky and his son (our grandchild) Canon could be present. It was a wonderful family reunion.

Finally, I was surprised to see four of my former wrestlers of the early 1970s present. I was overwhelmed when they thanked me for being their coach and preparing them for life. I must say the compliments shocked me. You have to realize that the rules of coaching were quite different in the '70s.

As a coach, I was an S.O.B. in the practice room, sometimes working them three hours nonstop. And they're thanking me? Still, I take pride in knowing they all turned out to be quite successful as adults. Allow me to share their success stories with you.

Dan Doyle, a 1973 graduate of Wheeling Central and state champ that year, is presently school superintendent of Noble Local Schools in Ohio. Moreover, Doyle is soon to complete his doctorate in education at WVU. Bill Taggart, a 1973 graduate of old Wheeling High School and Region l Runner-up as a senior, is a retired USMC Major, who now works as a military technology expert and consultant. Dave Camilletti, a 1974 graduate of Wheeling Central and Region l Champ his senior year, is a practicing attorney. And finally, Bernie Shalvey, a 1975 graduate of Wheeling Central and All-State wrestler his senior year, is now a top business executive. In college, Bernie played football for Penn State's coaching-great Joe Paterno.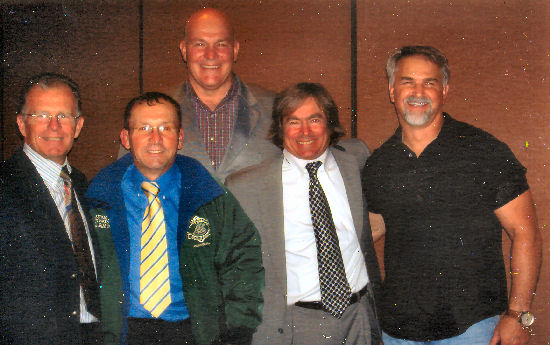 Left to Right: Dan Doyle, Coach Welker, Bernie Shalvey, Dave Camilletti, and Bill Taggart. (Note: A special "thank-you" to Brian Cook of the Times-Leader for the photos he took during the induction).

Yes, it was a very special day that I will remember for the rest of my life. And it's all due to my avocation, the sport I have loved for over 50 years - Wrestling!

Team Scoring and Tiebreakers in Dual Meets

The chart for team and match scoring at dual meets is as follows:
Team Scoring
3 points: Decision (1-7 point spread)
4 points: Major Decision (8-14 point spread)
5 points: Technical Fall (15 or more point spread)
6 points: Fall, Forfeit, default, or disqualification

Remember, this is team scoring for dual meets, not tournaments. We will discuss tournament team scoring next week.

In dual meet competition, if the team score concludes in a draw or tie, the winning team would be determined by the following criteria:
1) The team that has received the fewest points for flagrant misconduct or unsportsmanlike conduct shall be declared the winner.
2) The team that has won the greater number of matches (including forfeits) shall be declared the winner.
3) The team that has accumulated the greatest number of points from falls, defaults, forfeits, or disqualifications shall be declared the winner.
4) The team that has earned the greater number of points from technical falls shall be declared the winner.
5) The team that has earned the greater number of points from major decisions shall be declared the winner.
6) The team having the greater number of total match points of first points scored shall be declared the winner.
7) The team securing the greater number of near-fall points will be declared the winner.
8) The team securing the greater number of takedown points will be declared the winner.
9) The team having the greater number of reversals will be declared the winner.
10) The team having the greater number of escapes will be declared the winner.
11) The team whose opponent has been penalized more often for stalling will be declared the winner.
12) The team whose opponent has been warned more often for stalling shall be declared the winner.
13) The team whose opponent has the greater number of penalty points for all other infractions shall be declared the winner.
14) If none of the above resolves the tie, a flip of the referee's disk will determine the winner.

Upon determining the winning team, a single team point will be added to the winning team's score.

Mini-Mat Quiz

Q: Wrestler A won his match 17-2. How many points would he score for his team and what type of win would this be?
A: He would score 5 points for his team with a technical fall.

OVAC Joe Thomas Wrestling Warrior

The Coach Joe Thomas OVAC Wrestling Warrior of the Week is Bellaire's Zach Porter, a senior wrestling at 112 pounds this season.

Porter started the year winning the East Liverpool "Potter Classic." His past performances include placing in the OVACs three years in a row (2006: 8th place, 2007: 7th place, and 2008: 3rd place).

The "Big Red" standout also won the 2008 Shadyside Invitational, is a three-time district qualifier, and boasts a record of 110-29 on the mats.

Congratulations are extended to Zach Porter - this week's Joe Thomas OVAC Wrestling Warrior.

OVAC Mark Gerrity Wrestling Fan of the Week

This week's Mark Gerrity OVAC Wrestling Fan is Bellaire's Cindy Clegg. Her dedication to the Big Red mat program and the OVAC Ron Mauck Wrestling Tournament over the years is second to none!

The Deaton-Regis Weekly Dual Meet Predictions

Larry Deaton and Jack Regis, two of the Valley's finest mat officials are competing with each other this season, picking the winners of selected weekly matches.

This week's featured matches are Oak Glen at Harrison Central and River at Weir at 6:00 p.m. on Wednesday.

Deaton picks Harrison Central out distance Oak Glen 29-27. Weir over River 35-29.
Regis calls Oak Glen to defeat Harrison Central 31-20. River to win 36-23 over Weir.

Book/DVD Notes:
The Wrestling Drill Book edited and authored by Bill Welker, with nearly 15,000 sold nationwide, and/or his DVD: Bill Welker's Pancake Takedown Series, would be a great Christmas gift for your favorite wrestler! To purchase an autographed copy of the Book, the cost is $25.00. The DVD is also $25.00. Shipping and handling is included for either of both items. A "SPECIAL" price of $40.00 is offered for the purchase of both. Make all checks payable and sent to:

Bill Welker
110 North Huron Street
Wheeling, West Virginia 26003

Don't forget to send your return address and any personal note you want me to write, as well. I will accept Book and DVD requests until December 22nd, so one or both items arrive in your hands before Christmas!

Mat Message

"When a deep injury is done us, we never recover until we forgive."
-- Alan Paton

(Dr. Bill Welker can be reached via e-mail at: mattalkwv@hotmail.com) <!!!!!!!!!!!!!!! insert text>
---
Return to the West Virginia Mat Thoughts Index Page
Return to the WV-Mat front page