FORMER SHS STATE CHAMP RETIRES AFTER 40 YEARS IN THE CLASSROOM - WITH HONORS
Dr. William A. Welker, a 1965 graduate of Shamokin High School, was recently been selected as WTRF-TV's (Wheeling, WV) 2009 March Teacher of the Month Apple award winner. His interview with news anchor Stacy Rich discussed his career, which spans five decades, and his love for teaching. The WTRF-TV award is sponsored by Wheeling Hospital.

Welker has also been selected by the Wheeling Area Chamber of Commerce as the "2009 Teacher of the Year," along with two other area teachers. He received his award at the Chamber's April 3rd banquet. Along with this recognition comes a responsibility; Dr. Welker will be the Grand Marshal for Wheeling's 2009 Annual Perkins Restaurant and Bakery Fantasy of Lights Christmas parade in November.

According to Joselyn King of the News-Register, Welker said, "The secret to a long teaching life is possessing a great sense of humor. When I see the kids laugh, it makes my day.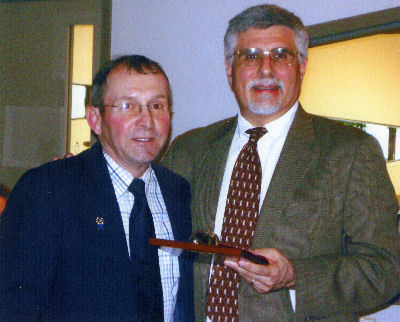 Dr. Bill Welker (Lt.) receiving his "2009 Teacher of the Year" award from Terry Sterling (Rt.), President of the Wheeling Area Chamber of Commerce.